Check out the calendars to pick the best dates for your stay in our cabins. Just give us a call between 9AM and 5PM to reserve.800-6CANOE2

Angler, Drifter & Paddler
Please do not come if exposed to COVID or have symptoms. Be safe.
New this year due to COVID-19:
The cabin check in time is after 4 PM and check out by 10 AM which gives us more time for cleaning.
All cabin guests need to bring their own towels, bed linens, bedspreads and pillows for their safety.
Wear masks and social distance from other cabin guests in area
Bring hand sanitizer, extra soap
Let us know if you come in contact with anyone with the virus or develop symptoms once you return home for our staff's safety.
Online reservations are necessary for River trips. Numbers will be limited so reserve soon.
Here are our cleaning procedures following CDC standards as they apply to the cabins, the Outfitters Store and our campground.
In our effort for safety for our cleaning crew and our guests–when possible we leave a cabin closed for 24 hr after a guest checks out. The crew then goes in with Lysol spray and spray the cabin. They close it up for 1 to 2 hr before going back in to clean all surfaces with Clorox wipes, Clorox the floors, spray all furniture, beds and curtains and wipe the handles as we leave. The hot tubs are wiped down along with the stair handrails.
For now, be safe, healthy and wash your hands!
Come out to where you can still enjoy the mountains and the river. Bring your fishing pole!
Thank you,
The staff and owners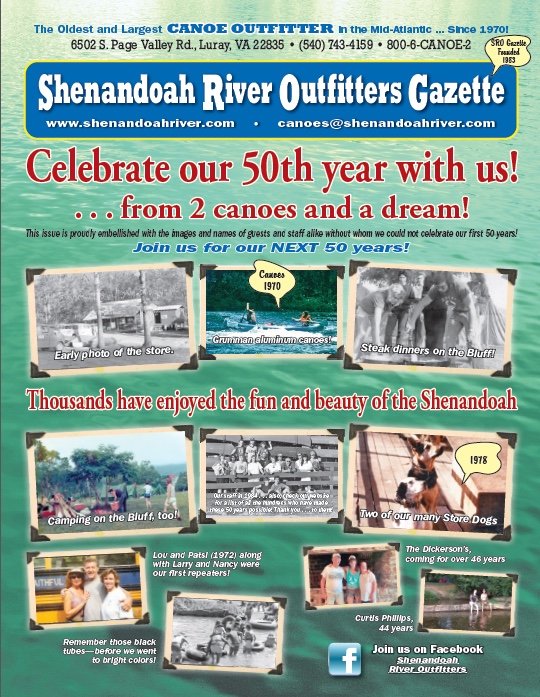 Download our 8-page 
SRO Gazette
-info you can take with you!
Shenandoah River Outfitters, Inc.
Camp OutBack &
Shenandoah Canoe Company
River Log Cabins Rentals

6502 S Page Valley Road
Luray VA 22835
800-6CANOE2 (800-622-6632)
or 540-743-4159
canoes@shenandoahriver.com